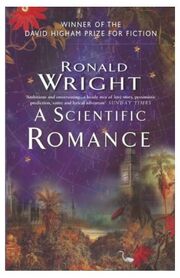 A Scientific Romance is a 1999 Time Machine novel by Ronald Wright.
It is 1999, and David Lambert, jilted lover and museum curator, is about to discover the startling news of the return of H. G. Wells's time machine to London. Motivated by a host of unanswered questions and innate curiosity, he propels himself deep into the next millenium. As he sets foot in the luxuriant but menacing new landscape, he soon begins to explore the ruins of his life, a labyrinth of erotic obsession and remorse involving his old friend Bird, and Anita -- the beautiful, eccentric Egyptologist they both loved, mysteriously dead at thirty-two.
Ad blocker interference detected!
Wikia is a free-to-use site that makes money from advertising. We have a modified experience for viewers using ad blockers

Wikia is not accessible if you've made further modifications. Remove the custom ad blocker rule(s) and the page will load as expected.