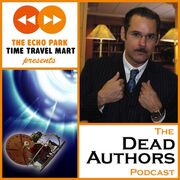 The Dead Authors Podcast is a podcast series with the premise that H.G. Wells, the author of The Time Machine: An Invention, had a real Time Machine (which he found, rather than built), which was the inspiration for the novel. He uses his machine to visit various authors, who are presently dead, and interview them in comic exchanges.
External Links
Edit
Ad blocker interference detected!
Wikia is a free-to-use site that makes money from advertising. We have a modified experience for viewers using ad blockers

Wikia is not accessible if you've made further modifications. Remove the custom ad blocker rule(s) and the page will load as expected.