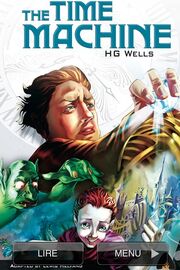 The Time Machine was a 2010 graphic novel adaptation of The Time Machine: An Invention. It closely follows the story of the novel, even using much of the novel's text.
Art style
Edit
The art in the comic series is, at times, a departure from previous depictions of The Time Machine. For example, Weena and the Eloi are no longer depicted as pale and blonde, as they are in the 1960 film.
References
Edit
Ad blocker interference detected!
Wikia is a free-to-use site that makes money from advertising. We have a modified experience for viewers using ad blockers

Wikia is not accessible if you've made further modifications. Remove the custom ad blocker rule(s) and the page will load as expected.