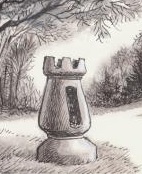 The Time Castle was a time machine invented and built by scientist Restin Dane, using information from his grandfather's journal on time travel. The Time Castle is not designed after The Time Machine, however, as no design specs survived into the 20th Century for Dane to copy.
The Time Castle is shaped like a giant chess rook, giving rise to Dane's nickname, The Rook. (The Rook: "The Man Whom Time Forgot!")
Ad blocker interference detected!
Wikia is a free-to-use site that makes money from advertising. We have a modified experience for viewers using ad blockers

Wikia is not accessible if you've made further modifications. Remove the custom ad blocker rule(s) and the page will load as expected.